Graduate Students

Halla Attallah
ha409@georgetown.edu
MA (2010), American University of Paris, Middle East and Islamic Studies with Language BA (2000), University of Washington, Comparative Religion
Halla studies narratives from the Qur'ān and Hebrew Bible with special attention to the Abrahamic figures and their role in shaping religious identities throughout history. She is interested in the interaction between scriptures and society as well as the manifestation of religious rhetoric in contemporary sociopolitical discourse. At Georgetown she has been working to establish a methodological framework for approaching religious texts and has developed deeper interests in literary criticism, postmodern theories and feminist theology. Halla is fluent in Arabic and French and is currently studying Biblical Hebrew. Other research interests include early Islamic history, the biography of the prophet Muhammad and the compilation of the Qur'ān. She also enjoys playing the electric guitar, rotating through coffee shops, and learning stop motion animation.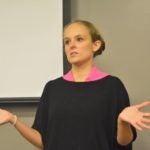 Danielle Clausnitzer
Dlc112@georgetown.edu
A graduate of both Dickinson College in Carlisle, PA (Bachelors in Religion and Africana Studies, 2014) and the University of Georgia in Athens, GA (Master of Arts, Religion, 2016), Danielle's current academic home is in the Theological and Religious Studies department at Georgetown University. During her time at these institutions, Danielle's primary research interests have included African Inspired Churches and African Pentecostalism(s), the role of gender in religious development, Diasporic identity formation, and a plurality of other African and African American church organizations and their histories. Danielle also has a profound interest in education, as she was afforded the opportunity to teach several religion classes during her time at the University of Georgia.
A native of Minnesota, Danielle resigns herself to being a traitor on the ice, as she remains a die-hard Blackhawks fan. In the off-season, Danielle can be found practicing yoga, baking, or walking around D.C. with her chihuahua, Allie.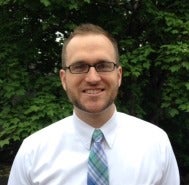 Joel D. Daniels
jd1573@georgetown.edu
M.T.S (2015) Boston University B.S. (2002) Lee University
Joel studies religion from a global perspective through world Christianity, particularly Pentecostalism, Chinese religious philosophy, interreligious dialogue, spiritual formation, and comparative theology, philosophy, and ethics. His dissertation examines how and why Pentecostal spirituality has flourished in China over the past 100 years. The combination of Pentecostal spirituality that emphasizes the Holy Spirit's liberating presence and the influence of traditional Chinese religions in Chinese Pentecostal communities has, he argues, made China particularly receptive to Pentecostalism.
Before coming to Georgetown, Joel served as a pastor for ten years, and he continues interacting with religion in this way by serving as a Residential Minister at the university as an ordained minister in the American Baptist Churches, USA. Interconnected with ministry, Joel enjoys spending time with his wife and three children, whether going on hikes or enjoying Friday family movie night.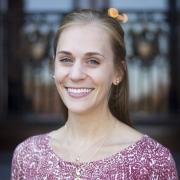 Jordan Denari Duffner
Jordan Denari Duffner is a second-year PhD student of Islam and Christianity, focusing on Catholic theologies of Islam. Previously a research fellow studying Islamophobia at the Bridge Initiative, she is also a former recipient of a Fulbright grant to study Muslim-Christian relations and depictions of Islam in Christian television in Amman, Jordan. She is the author of Finding Jesus among Muslims: How Loving Islam Makes Me a Better Catholic (Liturgical Press), and her writing on Islam and Catholicism has appeared in numerous publications including The Washington Post, TIME, and America.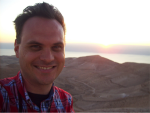 Steven Gertz
smg237@georgetown.edu
MPhil (2010) Islamic Studies and History, Oxford University MSc (2006) Islamic and Middle Eastern Studies, University of Edinburgh BA (1997) History, Wheaton College
Steve is a doctoral candidate focusing on how sectarian allegiances impact and shape inter-religious relations, and consequently how sectarian identity forms in a religiously diverse society. During the academic year of 2018-19, he was on a fellowship funded by the University of Notre Dame, conducting research for and writing his dissertation at the Tantur Ecumenical Institute in Jerusalem. Steve is surveying Fatimid Isma'ili fiqh on dhimmis (Jews and Christians), and doing so in conversation with David Freidenreich's research on Shi'ite juristic reasoning regarding non-Muslims. In addition, Steve is seeking to understand how both Isma'ili fiqh and the Fatimid application of that law impacted Palestinian Melkite Christians living under Fatimid rule during the fifth/eleventh century through a study of both Fatimid and Melkite histories. He is also developing a class for undergraduates at Georgetown in the fall of 2019 that will study sectarianism and how it impacts inter-religious dialogue and relations.
Previous to beginning his graduate studies at Georgetown, Steve spent about ten years in both academic and popular publishing. He first served as Assistant Editor for the magazine Christian History, then as Newsletter Editor for the Centre for Muslim-Christian Studies in Oxford, and then as the Multimedia and Publications Editor of Georgetown University's Center for Contemporary Arab Studies. Since entering Georgetown's theology program, he has assisted Dr. Yvonne Haddad in researching and writing a book on Christianity in the Middle East, has worked with Dr. Julia Lamm as a teaching assistant for a class on early Christian thought as well as a course in ethics, and has helped Dr. Daniel Madigan update the Oxford Bibliographies Online section on Islam and Christianity as well as assisting with a class on the Qur'an.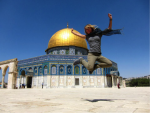 Susie Hayward
sh1136@georgetown.edu
BA (2002) Tufts University MA (2006) The Fletcher School of Law and Diplomacy  MA (2007) Harvard Divinity School
Susie Hayward is a scholar practitioner working at the intersection of religion, violence, and peacebuilding with a focus on Asian contexts. Prior to starting at Georgetown, she spent six years working in the Religion and Peacebuilding program at the U.S. Institute of Peace, and continues to support their work. In addition, she co-coordinated an initiative from 2010-2012 exploring the role of women in religious peacebuilding in partnership with the Berkley Center at Georgetown University.
At Georgetown, Susie's research focuses on Buddhist and Christian theological responses to authoritarianism and violence in Myanmar/Burma. Her broader research focus includes interfaith engagement, feminist religious expression, and political Buddhism in Sri Lanka. She studied Buddhism in Nepal, is an ordained minister in the United Church of Christ, and serves on the selection committee for the Niwano Peace Prize.
You can spot Susie riding around Georgetown on her bright orange scooter. When not running around the world or around campus, she likes to throw on a backpack and head into the woods of West Virginia, explore the watering holes in her Petworth neighborhood, or kayak in the Chesapeake Bay.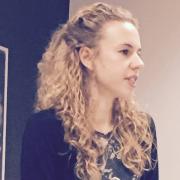 Kirsty Jones
klj50@georgetown.edu
Kirsty Jones graduated from the University of Cambridge (B.A., MPhil) in June 2016, specializing in Hebrew Bible, before spending time as a visiting scholar at the Concordia Centre for Sensory Studies in Montreal. She researches disability and the senses in scripture, and wrote her thesis on disability in prophetic utopias. She is passionate about the intersection between biblical studies and contemporary ministry, and is a research associate for the Kirby Laing Institute of Christian Ethics.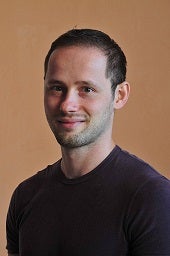 Chris Kalaitzidis
ck925@georgetown.edu
Chris's background is in continental (B.A.) and analytic philosophy (M.A.). He minored in Religious Studies and both of his undergraduate and graduate theses were written on topics related to the philosophy of religion. He is currently pursuing a Diploma in Interreligious Studies at a pontificate university in Rome, Italy . He is interested in exploring the philosophical aspects of interreligious dialogue and the relationship between modern secularism and religious pluralism.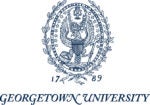 Ray Kim
Ray Kim is a 3rd-year Ph.D student who specializes in Islam and globalization, particularly in East Asia. While at Boston College (Class of 2013: B.A. in Theology, Philosophy, and Islamic Civilizations), he primarily studied Comparative Theology between Islam and Christianity, and after having graduated from BC, he moved to Amman, Jordan for two years. While living abroad, he worked as a full-time Middle School Social Studies teacher and a High School MUN Director at a private international school in Amman. He also volunteered part-time as an English instructor at various NGO's working with the refugee population.
Easten Law
egl31@georgetown.edu
B.A. (2005) Wheaton College, Illinois – Communication & Spiritual Formation M.A. (2009) Wheaton College, Illinois – Intercultural Studies M.DIV (2015) Wesley Theological Seminary, Washington, DC.
Easten's research focuses on religious pluralism, public theology, and civil society in the context of contemporary China. For his dissertation he is examining how Chinese Christian identity is negotiated and expressed in everyday life via qualitative sociological methods. He intends to use this data to inform an interreligious public theology for the Chinese context.
Previously, Easten taught intercultural relations at American University's School of International Service in Washington, D.C., and Anhui Normal University in Wuhu, Anhui Province, China. In addition to teaching, Easten has also provided trainings, lectures, and curriculum design in intercultural communication with a variety of faith communities and NGOs in the D.C. area and China, including the United Methodist General Commission on Race and Society, Mercy Corps, and local Chinese NGOs responding to the Sichuan earthquake that struck southwest China in 2008.
Some of his previous work includes projects in critical pedagogy and intercultural communication for global citizenship, community based research methods for urban ministry, and curricular frameworks for integrating inter-religious dialogue and Christian ministry.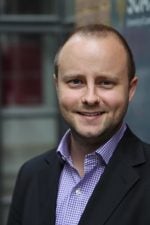 Nathan Lean
nathan.lean@georgetown.edu
MA (2013), Georgetown University MA (2010), East Carolina University BA (2007), East Carolina University
Nathan's research interests focus on religious pluralism, Muslim-Christian relations, discourse and religion, anti-Muslim prejudice, and the dynamics of engagement between Muslims and Christians in North Africa. Prior to his doctoral study, Nathan served as the Director of Research at Georgetown University's Bridge Initiative. Nathan is the author of The Islamophobia Industry (Pluto, 2012), the co-author of Iran, Israel, and the United States (Praeger, 2010), and the co-editor of The Moral Psychology of Terrorism (Cambridge Scholars, 2013). He is the author of an upcoming volume, Understanding Islam and the West (Rowman and Littlefield, 2017). A native of North Carolina, he enjoys watching baseball, surf fishing, and spending time with friends and family.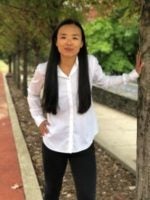 Kathy Lin
nkl17@georgetown.edu
M.T.S. (2017), Harvard Divinity School – Buddhist Studies  M.B.A. (2015), MIT Sloan School of Management  A.B. (2008), Harvard College – Social Studies
Kathy Lin is a third-year Ph.D. student with research interests in East Asian Buddhism, environmentalism, theories and methods in the study of religion, and philosophical ethics informed by hermeneutics and ordinary language philosophy. She is currently working on a theoretical account of religious adaptation and change, with an eye to explaining and understanding how it is that religious change occurs. She works with East Asian Buddhist material in giving this account, to which she brings an explicitly contemporary concern around climate change and the human relationship to the wider environmental world.
Prior to her time at Georgetown, Kathy worked in the interlinked structures of global finance in New York and in Nigeria. She credits the system dynamics group at MIT for her wake-up call to climate action, and the sophomore Social Studies tutorial at Harvard for her enduring relationship to social theory.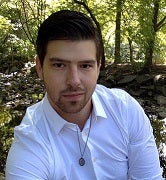 James Shelton Nalley
jsn35@georgetown.edu
M.T.S. (2016) Harvard Divinity School: Comparative Theology, B.A. (2012) Christopher Newport University: Philosophy and Religious Studies
Shelton's research focuses on philosophical theology as it relates to the spiritual life, and how the contemporary incarnation of comparative theology offers an opportunity to enrich our understanding of one another, our traditions, and ourselves. While he is interested broadly in both historical and contemporary encounters between Christianity and Islam, he is particularly engaged with the thought of St. Thomas Aquinas and Ibn al-'Arabī. Shelton seeks to reimagine the works of Aquinas, through an encounter with Ibn al-'Arabī's intellectual mysticism, in the same way Aquinas reimagined Christianity as a result of his encounter with Greco-Arab philosophy.
Shelton is from North Carolina, though during college basketball season his heart is at the University of Kentucky. When he is not studying he enjoys cooking, working out, and watching horror movies.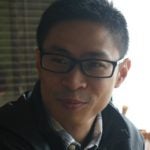 Teng-Kuan Ng
tn415@georgetown.edu
M.T.S. (2013), Harvard Divinity School – East Asian Religions M.A. (2010), Fuller Theological Seminary – Theology A.B. (2005), Princeton University – Comparative Literature and East Asian Studies
Teng-Kuan is a fourth-year Ph.D. student in the Department of Theology and Religious Studies. His main research interests revolve around the comparative study of religion and cinema in East Asia, with particular attention to transnational Chinese contexts. On the one hand, he studies the ways that religious traditions are visualized and performed via film, whether in explicit fashion or as subterranean current. On the other hand, he investigates the confluences between religious and cinematic phenomena, whether in terms of historical evolution, phenomenological experience, or pragmatic function. His academic work has been published in the Journal of Religion and Popular Culture, Religions, Buddhist-Christian Studies, and Literature and Theology.
Prior to graduate studies at Georgetown, Teng-Kuan worked on study abroad programming and co-curricular experiential learning trips at Yale-NUS College, Singapore's first liberal arts college. And before that, he studied and worked in various cities in the U.S. and China for eleven years, including four summers coordinating the Princeton in Beijing intensive Chinese language summer program hosted at Beijing Normal University.
In his leisure, Teng-Kuan enjoys good films (he especially admires the work of Hou Hsiao-Hsien, Ann Hui, Koreeda Hirokazu, and Lee Chang-Dong), meaningful conversations, and exploring the D.C. area with his wife.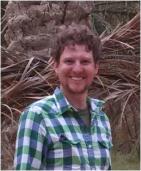 Tasi Perkins
tbp2@georgetown.edu 
M.Div (2005) Duke Divinity School BS (2002) Cornell University,Statistics and Biometry
Tasi Perkins is a fifth-year PhD student in the Department of Theology. A graduate of Cornell University (Statistics & Biometry, 2002) and Duke University (Master of Divinity, 2005), he pastored a United Methodist congregation for four years before returning to academics. After a year of doctoral work at Boston University, where he focused on narrative paradigms for interreligious nonviolence, Tasi moved to Georgetown in 2010. His research focuses broadly on theological dialogue between the Islamic and Christian doctrines of God. His forthcoming dissertation is entitled,"The Thirst, and the Sun, and the Bleeding": al-Ḥusayn as a Passible Liminal Figure in ʿAlid Hagiography. Prompted by Jürgen Moltmann's challenge to the normative assumption that God cannot change, feel, or suffer, this dissertation proposes a principally Shi'ite narrative account in which God is fully present in the passion and death of the Prophet Muḥammad's grandson in the year 680.
Tasi is an ordained Elder in the United Methodist Church and served for eight years as a chaplain-in-training in the United States Navy. Born in American Samoa, he locates his familial roots in New England.